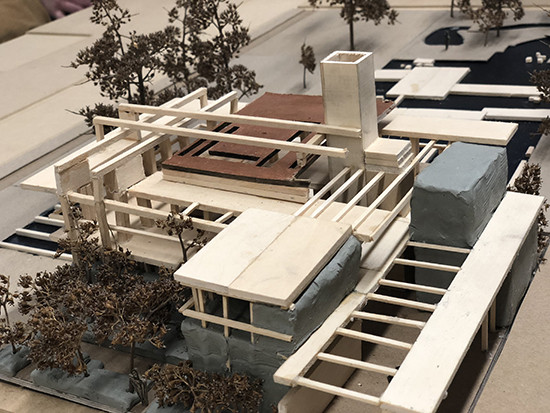 Project title: Maggie Centre Detroit
Course title: Architecture 1200
Professor/Instructor: Allegra Pitera
Students: Madison Girolamo, Stephen Malboeuf and Travis Schroeder.
Course description: As the second part of the first year of architecture design studio, this semester will continue iterative investigations of design processes with the addition of digital tools materiality, emphasis on building and site design and the study of color and color theory. Through an intense, rigorous, and playful studio process, students are engaged with a range of collaborative and independent problem-solving projects which focus on the process of design, design principles and the development of visual and architectural ideas. The translation of those ideas being architectonic form. Students will develop the technical skills necessary both to construct form as well as communicate design ideas both visually and verbally. We shift between digital and manual tools: students should be embracing digital techniques learned in Vis Com2 and experimenting with new media with their Studio projects. One objective is to begin to identify the what, when, and hows of using the appropriate tools. The abstract quality of the projects is based on past teaching success as well as observation of Best Practices for architecture students' learning outcomes.
Student work description: The Maggie Centre design scope is rooted in providing non-residential support and information facilities for people with cancer, and for their families and friends. The structure is small, roughly 3,000 square foot, but the students' designs include not just the building but also its connection to the exterior landscape design. The site is currently an empty lot on John R. and Garfield streets, across from the John D. Dingell VA Medical Center in Detroit. The Maggie Centre Detroit design must physically 'respond' to the adjoining existing buildings as well as the sidewalk, street condition and connecting to the medical center. In addition to the Maggie Center building, students design the entire site's landscape plan to include: parking, gardens, outdoor sitting areas, etc. As a culmination of the semester-long design process projects, the final project form is derived from one of the student's assigned "Point of Departure" models. 
Madison Girolamo