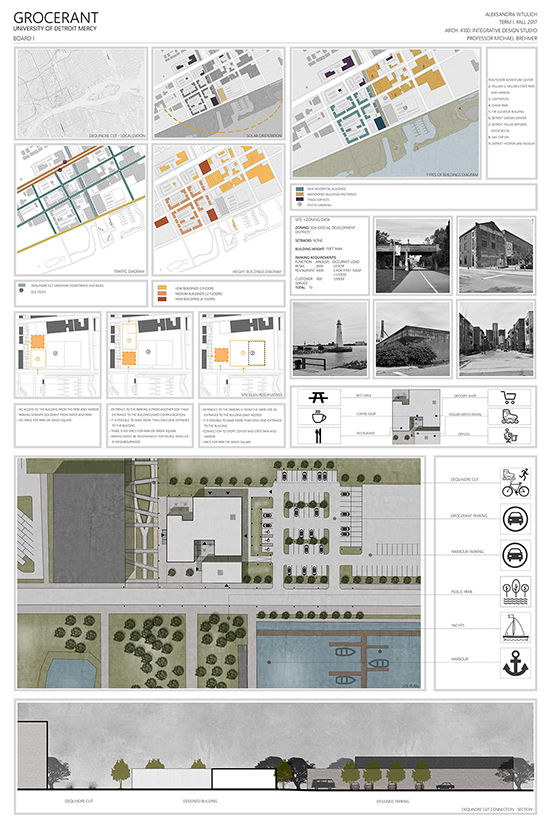 Project title: Dequindre Cut Grocerant
Course title: Integrative Design Studio
Professor/Instructor: Michael Brehmer
Students: Logan Autrey, Mat Lelli and Aleksandra Wtulich
Course description: This course's project investigates our relationship with food by designing a hybrid building that combines a restaurant and a grocery. Small local businesses benefit from placemaking while addressing consumer needs and technology trends to compete against online shopping methods. This type of local grocery supports studies and recommendations by the Detroit Food and Fitness Collaborative to create a small scale food ecosystem and support public infrastructure. New development in the city is extending along East Jefferson Avenue — informed by SOM's Detroit East Riverfront Framework Plan, and a recent boom in multi-family residential construction East of downtown. The studio project relates to The Dequindre Cut to support the integration of food culture with the use of public space, activity and entertainment. The studio project is developed through successive design phases including: site design; schematic design; structural system design; lighting, materials and interior acoustics; building systems design; and design of the exterior envelope.
Student work description: 
1. Site design
2. Schematic design
3. Structural system design
4. Lighting, materials and interior acoustics
5. Building systems design
6. Exterior envelope