Welcome Distinguished Detroit Mercy SACD Alumni,

I would like to take this opportunity to welcome you to the updated and constantly improving University of Detroit Mercy School of Architecture & Community Development (SACD) Alumni Association website. Your eager Alumni Council has many new and returning successful initiatives under development. With the School to capacity and the energy running high, we are looking to you for your assistance and suggestions. Please visit our new section that will answer the burning question "What does the council do?"
We are making a commitment to continuously inform you of news and events within the School, so please take a minute to update us on exciting changes occurring with you.
Thank you for checking in and hope we see you soon.
Sincerely,
Detroit Mercy SACD Alumni Council
---
Stories about SACD Alumni
See you at Homecoming!

Students, alumni, employees and their friends are all invited to join the festivities at the University's Homecoming scheduled for Sept. 29-30 at Detroit Mercy's McNichols Campus. Two days of events — from games and tours to informational sessions to a battle of high school marching bands — are planned and …
SACD Alumni Council
The purpose of this organization is to further the interests of the alumni of University of Detroit Mercy School of Architecture & Community Development (Detroit Mercy SACD); to assist in developing alumni services, activities and educational programming at the School; to coordinate the efforts of its members in the effectuation of these activities and programs; to foster a spirit of loyalty to the Detroit Mercy SACD and provide whatever other assistance is deemed necessary by the Detroit Mercy SACD.
Alumni Association on Social Media
Follow the Detroit Mercy Alumni Association on Facebook and join our LinkedIn group: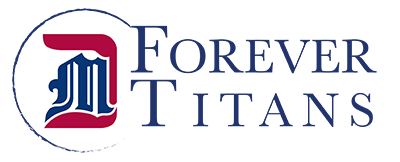 Forever Titans has many features, including a mentoring platform to promote organic networking opportunities, job boards with postings directly from other alumni, a user-friendly directory, photo galleries, event listings, various alumni news feeds,...and more!
 

Recognizing our Alumni

Distinguished Alumni

Warren Loranger '51, retired President & CEO of Pella Window & Door Company, is the recipient of multiple Detroit Mercy awards, including the Founders Award, and Distinguished Alumnus. He is recognized for his commitment to his alma mater in the tradition of Detroit Mercy's Jesuit and Mercy Founders.

Philip J. Kinsella '58

Following Philip Kinsella's graduation from University of Detroit in 1958 with a Bachelor of Science degree in Architectural Engineering, he began his architectural internship with Eero Saarinen and Associates Architects, the predecessor firm to Kevin Roche John Dinkeloo and Associates LLC (KRJDA). Kinsella received his initial Architectural License in 1965 in Connecticut and is currently a registered architect in 13 states and the District of Columbia. He is currently a partner at Kevin Roche John Dinkeloo and Associates LLC

Founding dean of the University of Detroit School of Architecture (1964).

Louis 'Gino' Rosetti '59

Rosetti has been a practicing architect since 1956, beginning his career as VP of Design at Giffels & Valet. In 1969, Rosetti founded Rosetti Architects, now Rosetti. Among his many career honors, he was elected to the College of Fellow of the American Institute of Architects. He has received gold medals from AIA Detroit as well as the Michigan MSA. Rosetti Architects was awarded the Firm of the Year in 1992. In 1999, he turned the reins over to his son, Matt. During his career, Rosetti served on various professional and nonprofit boards including University of Detroit Mercy's. Rosetti's firm designed stadiums and entertainment venues. Rosetti was awarded the Detroit Mercy Alumni Achievement Spirit Award in 2018.

"I am very proud to have graduated from University of Detroit for both its academic curriculum as well as the religious studies I was fortunate to receive," Rosetti said. "The Jesuits provided me with not only my education, but the ability to grow my confidence and progress my leadership skills. I was elected to the Board of Trustees for University of Detroit in 1977; this offered an opportunity for me to give back to the University during its financially troubled years."

Rainy Hamilton, Jr. '78, '79

Hamilton is the founder and owner of Hamilton Anderson Associates, which he established in 1993. What started as a solo practice has grown to include a partner, landscape architect Kent Anderson, and more than 65 full-time employees. Hamilton Anderson is "dedicated to improving the built environment through creative, contemporary design," using "intuitive curiosity and thoughtful execution to create inspiring contextually responsive solutions." This work can be seen locally in projects like the North Terminal at Detroit Metropolitan Airport, the Book Cadillac Hotel in Detroit, at Wayne State, Eastern Michigan and Michigan State universities and around the world. Hamilton was awarded the Detroit Mercy Alumni Achievement Spirit Award in 2017.

"There's no other city I'd rather be in than Detroit. Being a Detroiter, my focus has always been how I can contribute to the revitalization of Detroit. It's still the same today."

James Timberlake '74

Timberlake is an award-winning architect whose firm, KieranTimberlake, has been a leader in architectural research and innovation for more than 30 years. Founded in 1984 in Philadelphia, Pennsylvania, KieranTimberlake explores some of the most important issues in architecture, including efficient construction methods, resource conservation and novel use of building materials. Under James Timberlake's leadership, the firm has received more than 160 design citations, including the American Institute of Architects' Firm Award in 2008 and 2015 and the Cooper-Hewitt National Design Award in 2010.

A leader in training tomorrow's architects, he has written six books on architecture, lectures internationally, and teaches a design-research studio at the University of Pennsylvania School of Design. He also presented a Detroit Mercy-sponsored seminar in Italy in 2015 for Detroit Mercy and international students. He was appointed by the Obama Administration to serve on the Board of the National Institute of Building Sciences. Timberlake was awarded the Detroit Mercy Alumni Achievement Spirit Award in 2016.

Steven M. Pagnotta '74, '76

Recognized for his business expertise, architectural background and knowledge of retail development, Pagnotta has led his firm, Bradford Companies, to become one of Chicago's most successful companies dedicated solely to large scale retail projects.

With foresight, dedication and an entrepreneurial spirit, he founded Bradford Real Estate in 1987. Through the years and under his leadership, the firm has built more than sixty retail projects and earned the distinction of developing more big box retail stores than any other Chicago developer.

He is respected by his peers for his professionalism and ingenuity, and admired for his success during some of the most difficult real estate markets in history. As a strong supporter of education and philanthropy, he credits his University of Detroit experience with instilling a commitment to serving others through knowledge and outreach. Pagnotta was awarded the Detroit Mercy Alumni Achievement Spirit Award in 2015.

 

SACD Board of Advisors

SACD Board of Advisors Roster

BATTAGLIA, RONALD
Flynn Battaglia Architects, PC

BAUMAN, DONALD
Albert Kahn

BERLAGE, STEVEN
Sachse Construction

BURNS, TAMARA
Hopkins Burns Design Studio

CLEIN, KENNETH
University of Michigan Architecture,
Engineering & Construction

COBB, ALAN
Albert Kahn Associates

CORIATY, JOSEPH
Frederick Fisher & Partners

COURTNEY, SCOTT
SmithGroup JJR, Inc.

DIETRICK, MARK
Case Technologies

HAMBORSKY, DOUG
NEXTEK

HAMILTON, RAINY
Hamilton Anderson Associates

HARTMAN, WILLIAM
Gensler

KIM, JULIE JU-YOUN
Georgia Tech School of Architecture

KUGHN, RICHARD
Kughn Enterprises

LAUX, SANDRA
Hamilton Anderson Associates

LOPER, TYRONE
HKS, Inc.

MASENGARB, JENNIFER
Chicago Architecture Foundation

MARZ, MICHAEL
GPD Group

PAGNOTTA, STEVEN
Bradford Companies

RIBBRON, JAMES
City of Detroit

SUCHAN, JANICE
Stantec Architecture

SZKATULSKI, MICHAEL
RMC International

VAN TINE, GINA
inFORM Studio

WARNICK, LEE
SSOE Group

YORKE, BETH
Stantec

CARROLL, TERI
University of Detroit Mercy

WITTIG, WILL
University of Detroit Mercy
Make a Gift
Your tax-deductible donation to the School of Architecture and Community Development to help fund scholarships, research, recruiting and other essential activities can be made online at our
secure donation site
.
Alternatively, you can contact the Advancement Office or 313-993-1250. Thank you for supporting SACD.