Share: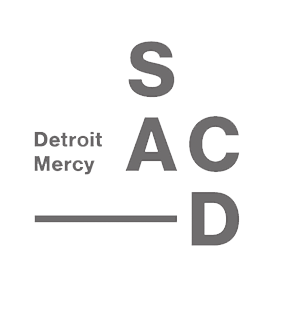 Building on our heritage of over 55 years and our unique relationship with Detroit, we have completed a major transition. Beginning this 2021-22 academic year, we are now known as the: School of Architecture + Community Development (SACD). This is more than a name change. It marks years of work that centers on amplifying our social, economic and environmental justice-driven and student-centered approach. It also highlights the 15+ years of our unique and accomplished community development department. The new name points us toward our future vision to be a community school because Detroit is our campus. It is not our laboratory or our classroom. It is our campus and our home.
I am delighted to say that this year we are back to in-person instruction and it has been wonderful to have the energy and excitement of our students, faculty and staff resonating through the Loranger Building. As I reflect on the past year, I am struck by the thought that our faculty and staff worked as if it was not a limitation to be online. As a result, we have truly expanded the limits of our educational opportunities. In other words, though we have returned to face-to-face instruction, we have not abandoned the digital learning assets we acquired last year. The online methods used by each faculty have expanded our techniques for teaching rather than limiting them or shifting them away from in-person processes. All of our in-person events are now simulcast to a virtual audience. Detroit Mercy thesis students, who are currently in Volterra, Italy, are learning simultaneously with their Detroit-based counterparts. Guest critics attending a public studio review are participating digitally from all over the globe.
At the Detroit Mercy School of Architecture + Community Development, we are an intentional community of approximately 225 students, served by 50 accomplished full-time and part-time faculty. Each of our students become an integral part of a diverse student body working alongside faculty, administrators and staff to imagine and create change. We are close-knit community. We cherish our relatively small size. One of our sources of pride is that our students are rarely lost in the back row of theater style classes. They are far from being an anonymous student walking through crowded halls where no one will recognize them. Our classes are hardly ever more than 25-30 students. Many of our courses are intentionally even smaller, there really is no back row.  
A few of our other points of pride are:
First, the Detroit Collaborative Design Center (DCDC), which is a fully operational teaching office within SACD that focuses on architecture, urban design and landscape architecture. It is a place that intentionally puts into practice what each students have learned. 


Second, it is one thing to work for an architect while you are in school. It is quite another to be a part of the second oldest coop program in the country. Other students who attend a school without the structured coop program leave their experience up to chance. Detroit Mercy architecture students are confident that our coop structure, which has evolved over the past 55+ years, will guide their employers to give them a well-rounded and productive experience.


Third, we are nurturing engaged world citizens who can think globally and act locally. Imagine sketching the magnificent view from the top of the tallest tower in Siena, Italy. Picture yourself in Warsaw, Poland studying architecture in English alongside students from all over the European Union and beyond. Envision learning about community development and architecture over spring break in Cuba. Studying abroad in unfamiliar locations is an important aspect of any educational college experience. We think strongly that it is even more important for students studying architecture or community development.
We provide an intentional educational process where students and faculty collaborate together through mutual trust and knowledge sharing. SACD faculty work with and alongside students. As Mariam Okunlola, Class of '16, put it: "You collaborate with your faculty to get the best out of your project, and looking for the best in you is what is really good in the faculty at Detroit Mercy." This more collaborative relationship provides a uniquely comprehensive learning environment, where both students influence professors and the professors influence students. We can and do learn from each other.
We have set this collaborative relationship because we are committed to educating students who will adapt to and lead in the changing disciplines of architecture, urban design and community development.
We look forward to shaping change together…
Dan Pitera, FAIA
Dean + Professor: Detroit Mercy School of Architecture & Community Development
2017 AIA Whitney M. Young Jr. Award for the Detroit Collaborative Design Center
2004-2005 Harvard University Loeb Fellow

Share: