Alumni
Welcome Distinguished Detroit Mercy SOA Alumni,

I would like to take this opportunity to welcome you to the updated and constantly improving University of Detroit Mercy School of Architecture Alumni Association website. Your eager Alumni Council has many new and returning successful initiatives under development. With the School to capacity and the energy running high, we are looking to you for your assistance and suggestions. Please visit our new section that will answer the burning question "What does the council do?"
We are making a commitment to continuously inform you of news and events within the School, so please take a minute to update us on exciting changes occurring with you.
Thank you for checking in and hope we see you soon.
Sincerely,

Detroit Mercy SOA Alumni Council
Detroit Mercy SOA Alumni Stories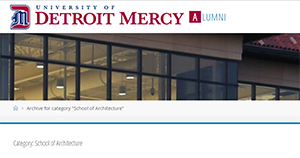 Stories, moments and highlights of Detroit Mercy SOA alumni.
Alumni Achievement Spirit Award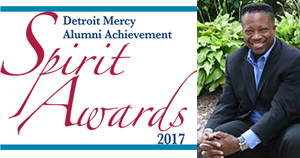 The 2017 Alumni Achievemen Spirit Award recipient for the School of Architecture  who will be honored at a special event on April 28, is Rainy Hamilton, Jr. '78, '79.
Join Alumni Community
Get online for permanent email, giving history and email bulletins.
SOA Alumni Council
The purpose of this organization is to further the interests of the alumni of the University of Detroit Mercy School of Architecture (Detroit Mercy SOA). to assist in developing alumni services, activities and educational programming at the School; to coordinate the efforts of its members in the effectuation of these activities and programs; to foster a spirit of loyalty to the Detroit Mercy SOA and provide whatever other assistance is deemed necessary by the Detroit Mercy SOA.
 

Recognizing our Alumni

Distinguished Alumni

Warren Loranger '51, retired President & CEO of Pella Window & Door Company, is the recipient of multiple Detroit Mercy awards, including the Founders Award, and Distinguished Alumnus. He is recognized for his commitment to his alma mater in the tradition of Detroit Mercy's Jesuit and Mercy Founders.

Following Philip Kinsella's graduation from University of Detroit in 1958 with a Bachelor of Science degree in Architectural Engineering, he began his architectural internship with Eero Saarinen and Associates Architects, the predecessor firm to Kevin Roche John Dinkeloo and Associates LLC (KRJDA). Kinsella received his initial Architectural License in 1965 in Connecticut and is currently a registered architect in 13 states and the District of Columbia. He is currently a partner at Kevin Roche John Dinkeloo and Associates LLC

Founding dean of the University of Detroit School of Architecture (1964)

 

SOA Board of Advisors

Roster

BATTAGLIA, RONALD
Flynn Battaglia Architects, PC

BAUMAN, DONALD
Albert Kahn

BERLAGE, STEVEN
Sachse Construction

BURNS, TAMARA
HopkinsBurns Design Studio

CLEIN, KENNETH
University of Michigan Architecture,
Engineering & Construction

COBB, ALAN
Albert Kahn Associates

CORIATY, JOSEPH
Frederick Fisher & Partners

COURTNEY, SCOTT
SmithGroup JJR, Inc.

DIETRICK, MARK
Case Technologies

HAMBORSKY, DOUG
NEXTEK

HAMILTON, RAINY
Hamilton Anderson Associates

HARTMAN, WILLIAM
Gensler

KIM, JULIE JU-YOUN
Georgia Tech School of Architecture

KUGHN, RICHARD
Kughn Enterprises

LAUX, SANDRA
Hamilton Anderson Associates

LOPER, TYRONE
HKS, Inc.

MASENGARB, JENNIFER
Chicago Architecture Foundation

MARZ, MICHAEL
GPD Group

PAGNOTTA, STEVEN
Bradford Companies

RIBBRON, JAMES
City of Detroit

SUCHAN, JANICE
Stantec Architecture

SZKATULSKI, MICHAEL
RMC International

VAN TINE, GINA
inFORM Studio

WARNICK, LEE
SSOE Group

YORKE, BETH
Stantec

CARROLL, TERI
University of Detroit Mercy

WITTIG, WILL
University of Detroit Mercy